FREE TYRE CHECK AND PRE NCT CHECK AVAILABLE AT OUR LIMERICK AND LONGFORD OUTLETS.
WE STOCK A-RATED WET TYRES FOR MAXIMUM GRIP AND SHORTER BRAKING DISTANCES FOR WET WEATHER CONDITIONS.
WE STOCK A RANGE OF PREMIUM AND ECONOMY TYRES TO SUITS ALL CARS AND BUDGETS.
LOOKING FOR A USED CAR OR VAN – CALL OUR SALES TEAM NOW.
Penalty points have recently been introduced for minimum tyre standards.  Here's a simple summary:
Minimum tyre *requirements for road going vehicles always applied, however the RSA has now introduced penalty points for offences.
2 penalty points are awarded for using a vehicle with defective or worn tyres with a fixed charge of €80 in first 28 days (4 points and €120 in the next 28 days).
So what are the key factor's around tyre requirements?
Tread depth
Tread depth must not be less than the legal minimum limit of 1.6 mm. The tread is the part of the tyre in contact with the road in normal conditions. Your vehicle's safety and performance – particularly in wet conditions – are reduced as your tyres wear.
Items to be aware of when Purchasing Tyres:
Labelling:
All new road going tyres sold must have a label outlining the tyre's wet grip, fuel efficiency and noise performance. These tyre labels are similar to the labelling already in use for household products such as fridges and washing machines.  Each tyre will be given a performance rating under each category from A-G excluding D to avoid an average performing tyre.
EU Tyre Label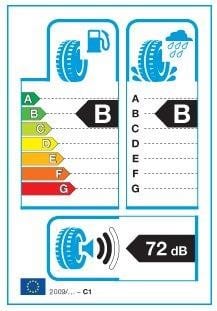 Wet Grip
Wet adherence, or grip, is one of the most important safety performance characteristics of a tyre.
However, higher adherence and lower rolling resistance are often contradictory objectives that have traditionally required a performance trade-off. Thanks to the new labelling regulation, customers will be able to see and choose for themselves their preferred performances.
The labels measure wet grip using a ranking system that ranges from
A                                           G
——————–>
best performance                                 worst performance
Vehicles with tyres from Class A stop in the shortest distance from 50mph, whilst tyres from Class B take an additional 3-6 metres. This trend continues for the subsequent values and results in an increase in braking distance of over 18 metres from a vehicle in Class A to Class F. For wet braking Categories D and G are not used so any tyre with longer stopping distances in the wet will be rated as E or F.
Fuel Efficiency
One of the forces influencing the fuel efficiency of a motorised vehicle is the rolling resistance of the tyres.   A tyre from Class C will use 1 litre more fuel than that of a tyre from Class B over a journey of 625 miles.
The labels measure rolling resistance using a ranking system that ranges from
A                                   G
——————–>
Most fuel efficient                                            Least fuel efficient
Exterior Noise
Traffic noise is an environmental concern. The new labels split tyres into three sound categories, based on the noise they produce in reference to new EU regulations, being introduced in 2016.
1 black sound wave = least noise produced, already compliant with the future tighter EU limit
2 black sound waves = already compliant with the future EU limit.
3 black sound waves = compliant with the current EU limit.
What is an E-marked tyre?
An E-mark confirms that a tyre meets minimum EU or International (UNECE) standards in relation to its dimensions, load and speed rating. E-mark tyres have been tested to ensure adequate tread depth and performance ability.
All motor vehicles tyres in the EU must be E-marked, whether new or retreaded.
Here's how to read your tyre in relation to E-marks:
The E-mark consists of an 'E' or 'e' and a number within a circle or a rectangle
A capital 'E' denotes UNECE approval, a small 'e' EU approval. Either is acceptable.
The number following the 'E' or 'e' denotes the Member State that granted approval. S-marking on tyres
EU motor vehicle tyres must bear an S-mark "sound marking" that certifies that the amount of road noise produced by the tyre complies with EU or International (UNECE) standards.
Retailers can no longer sell tyres with a width of 215mm or lower unless they have an S-marking on the sidewall.